The first APIE Camp was held at Keio University Hiyoshi campus, located in Yokohama, Japan, from February 6 to 10, 2023.
APIE Camp, a component of the APIE program, provides a project-based intensive curriculum for network design and implementation. Participants put into practice the skills and knowledge acquired from the APIE Online course and APIE e-Workshop.
For almost a week, 12 participants from SOI Asia partner universities in Indonesia, as well as guest mentors from APNIC, AWS, University Sains Malaysia (USM), and the Institute of Technology Bandung (ITB) also took part in the program. Students from Keio University, JAIST, and Osaka University also supported the preparation and facilitation of activities.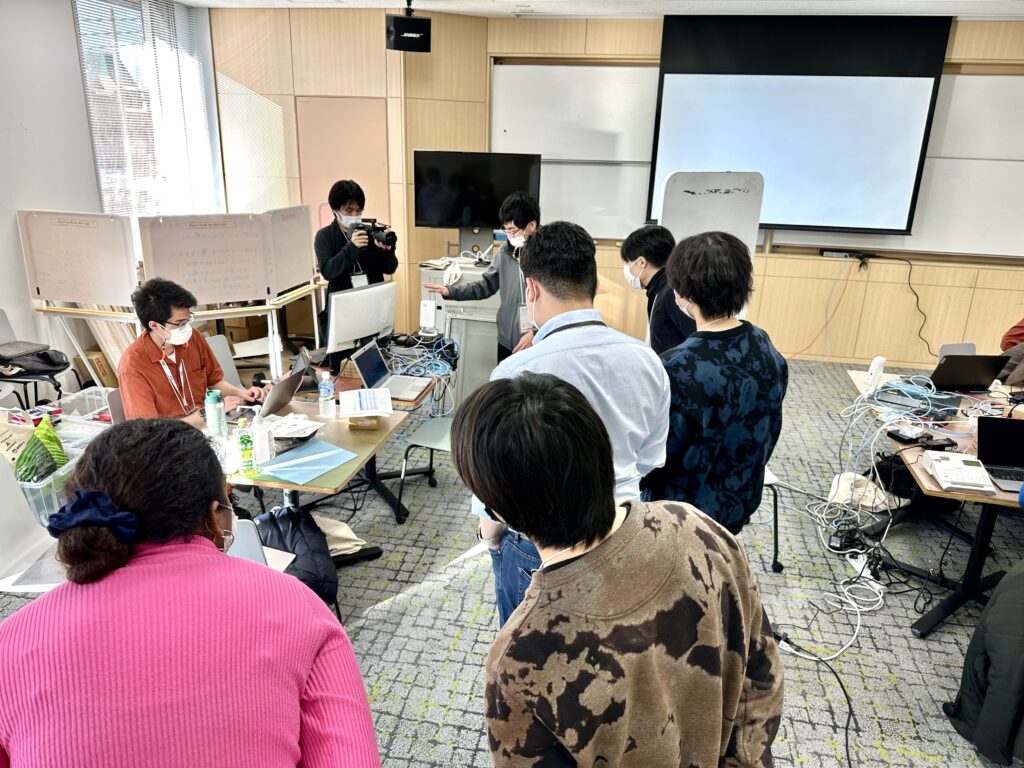 Before the camp started, all participants had survival Japanese language lessons that helped them to enjoy their stay in Japan. For the following 5-days, the curriculum covered the following topics:
DAY 1: Network design and configuration
DAY 2: Server installation and virtualization
DAY 3: DNS setup
DAY 4: Cloud computing/AWS
DAY 5: Site visit to a cybersecurity data center in Tokyo
Day 1: Network design and configuration
Noriatsu Kudo, the APIE program lead, introduced the camp schedule and all participants. Students started working on their mission of designing and deploying a small campus network and made their own UTP cable. Achmad Husni Thamrin, director of the AI3 project, explained about satellite services to connect to the Internet.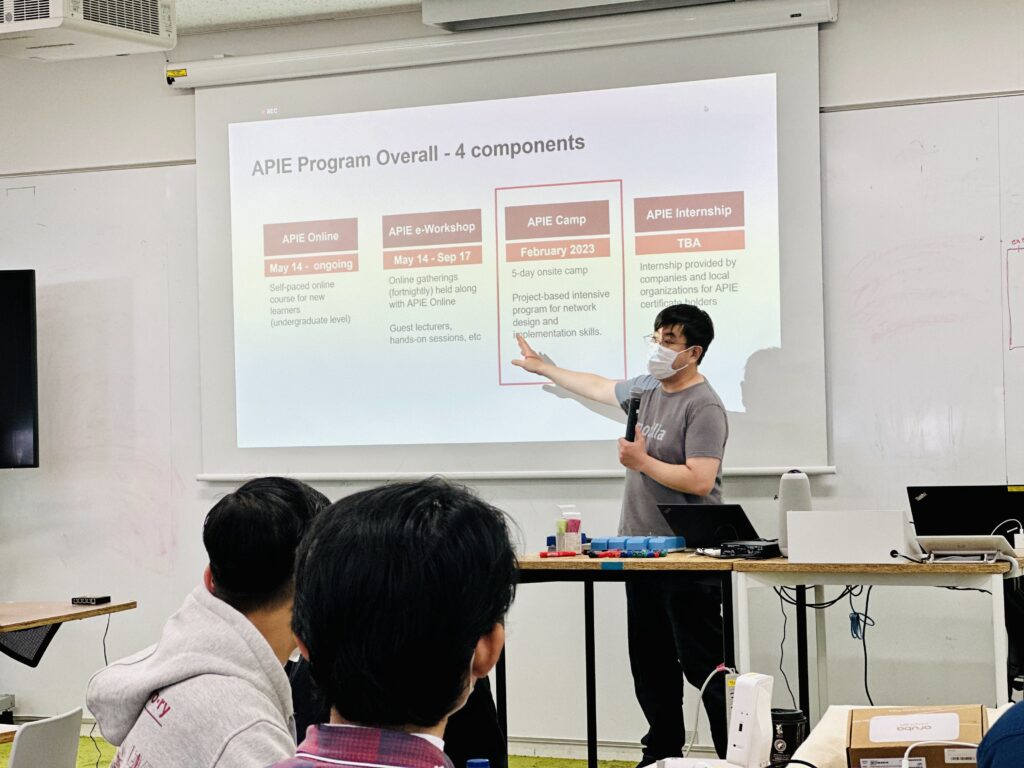 In the afternoon, Prof. Akira Kato took all participants on a campus tour and introduced part of Keio's and WIDE project's network infrastructure. Affan Basalamah and Galih Nugraha Nurkahfi, both from Bandung Institute of Technology (ITB, in Indonesia), gave a hands-on session about deploying the campus network and connecting it to the Internet. Students worked on the routers and switches to configure enterprise-level networks.
Day 2: Server installation and virtualization
Participants learned the fundamentals of servers. They started understanding the differences between normal PCs and enterprise servers. Later, students configured remote hardware monitoring and control to operate and install software from remote locations.
In the afternoon, participants learned about virtualization using ESXi. They created virtual machines, connected them to the network configured on Day 1, and then installed Linux to run web servers.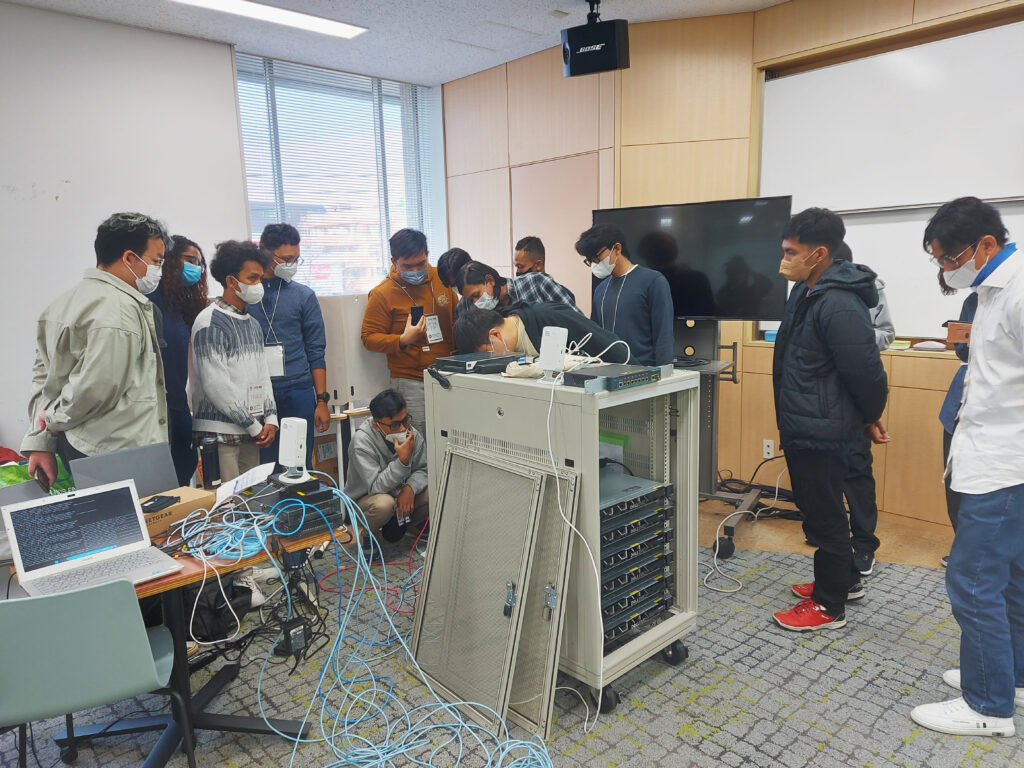 Day 3: DNS setup
Guest mentors Jessica Wei and Shane Hermoso, from APNIC, conducted a session on DNS setup. Students completed tasks such as installing BIND and configuring recursive, primary and secondary authoritative, and reverse DNS servers. They also participated in discussions on DNS security and configured ACL for recursive and authoritative servers.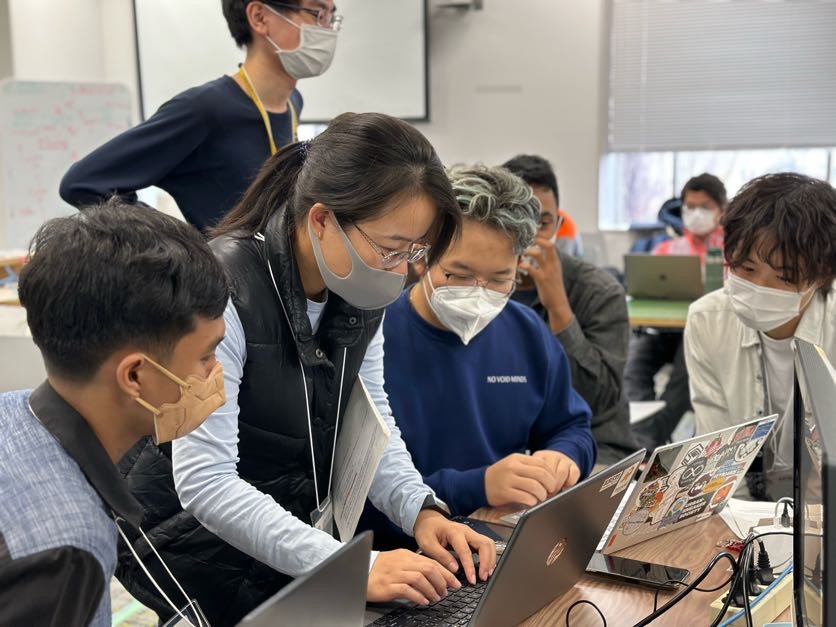 Day 4: Cloud computing
The main theme was could computing. Dr. Yung-Wei Chong from the University of Science, Malaysia (USM) and Aris Kumara Prabhawa (AWS Indonesia) shared different perspectives on the topic and mentored participants for the final phase of their assignments.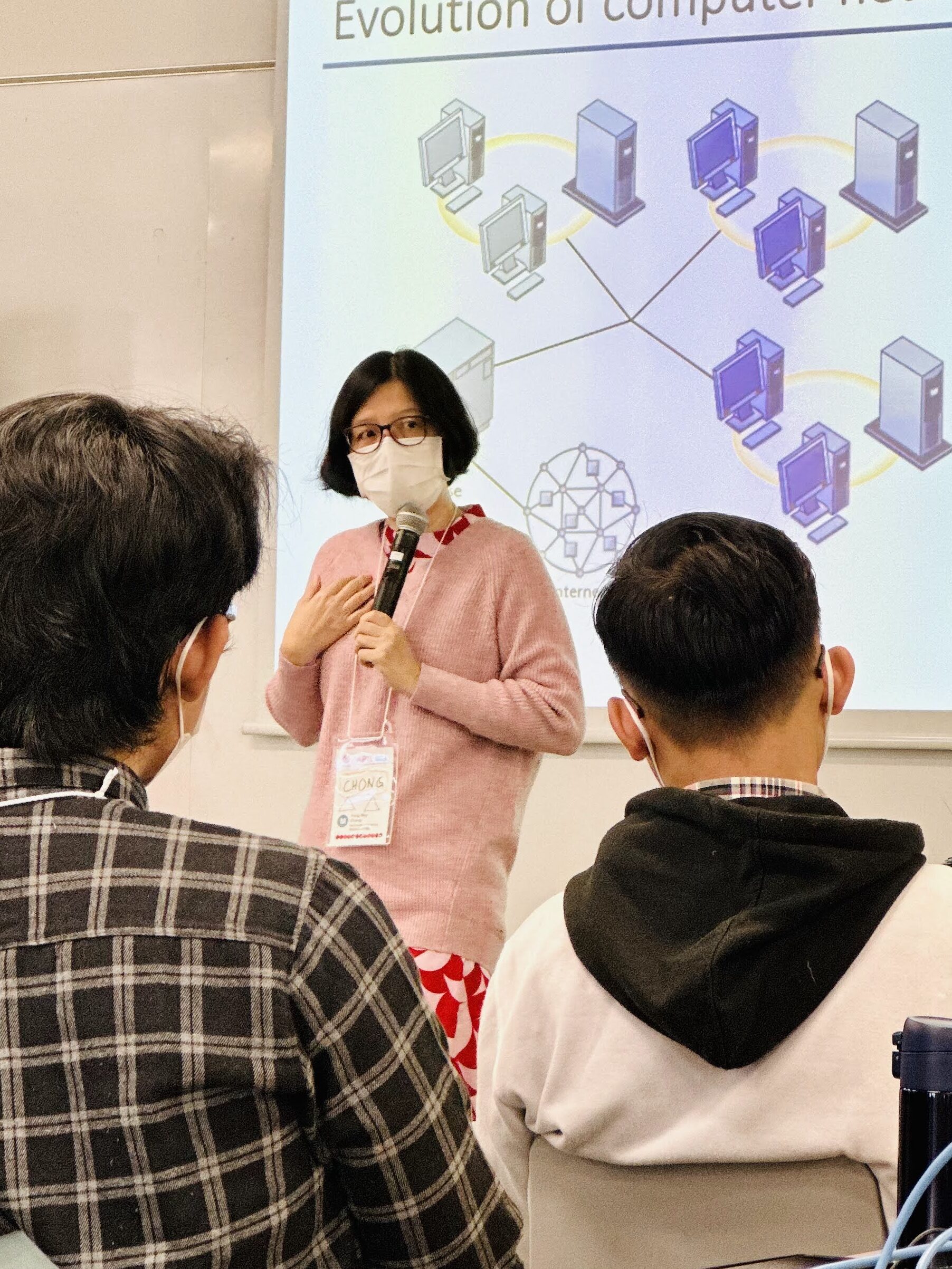 Day 5: Site visit to a cybersecurity data center in Tokyo and camp closing social
On the last day of the camp, all participants visited NTT Security Operation Center, in Tokyo. The camp was closed with a dinner in Tokyo when professors Jun Murai and Keiko Okawa delivered speeches and handed certificates to the 12 participants who successfully concluded this phase of the program.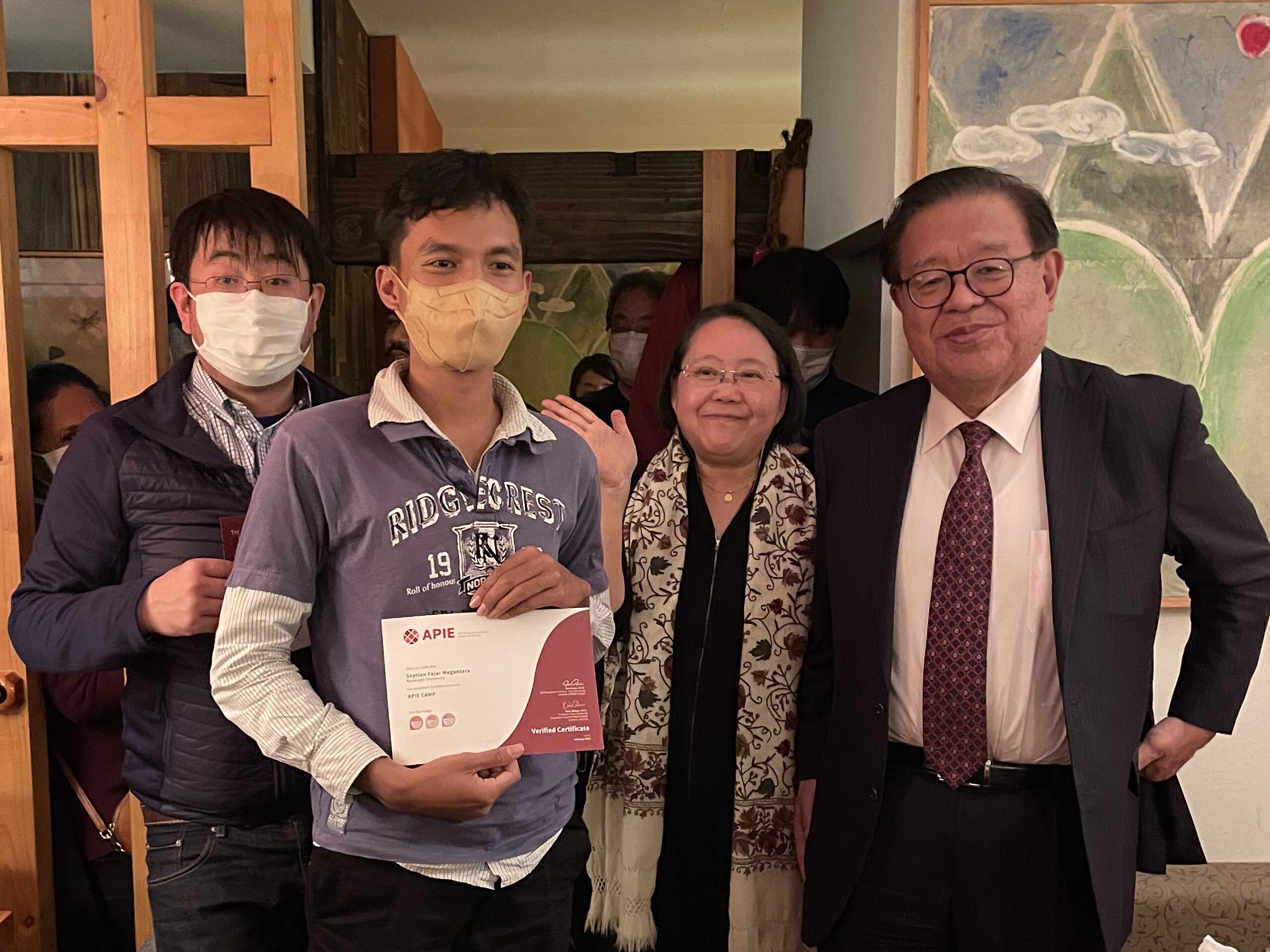 All participants will present their network design in the final presentation, to be held at the AI3 & SOI Asia Monthly Seminar (online, only for members from partner institutions) at the end of February.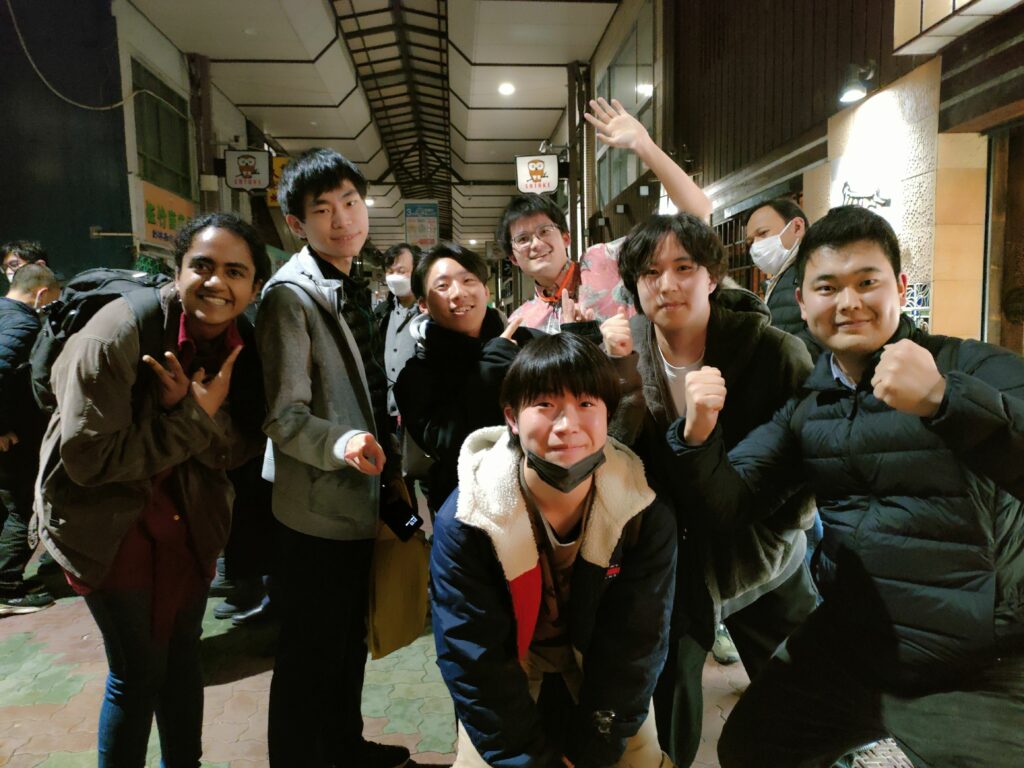 Upcoming APIE Camps are expected to be held on the campuses of ITB (Indonesia) and USM (Malaysia) and all certificate holders of APIE Online and APIE e-Workshop are eligible to apply.